Norbert Langthallner joins Black Bruin to drive expansion in DACH region
Norbert Langthallner was appointed as Sales and Product Manager for the DACH region starting June 1st, 2023. A seasoned professional with over 20 years of experience in hydraulics and drive technologies, he brings with him a wealth of knowledge and expertise for the benefit of Black Bruin customers. In his new role Norbert is responsible for spearheading sales development, product management, and technical support.
"I was looking for a new challenge after working 21 years in a major system integrator company with many clients in the manufacturing business. I wanted a new perspective and an opportunity to work with a top-line manufacturer. Black Bruin, specializing in drive components, was just what I wanted," Norbert says.
Before being appointed to his new position, Norbert had known Black Bruin for about 15 years due to its fine reputation in the forestry market. "Black Bruin had always stood out to me as the Mercedes of hydraulic wheel motors for forestry trailers. Their products are synonymous with unparalleled quality – no downtime, no replacing, no worries," Norbert says.
With his extensive experience, Norbert aims to utilize his expertise to generate sales and identify growth opportunities for Black Bruin against major competitors. Reflecting on his first few days at the production plant in Finland, Norbert was quick to acknowledge the company's agility across various operations. "Black Bruin's company size and structure are just right for really rapid reaction in the market. Furthermore, the company's production in Europe provides a head's start in terms of delivery availability, a crucial factor in meeting customer demands."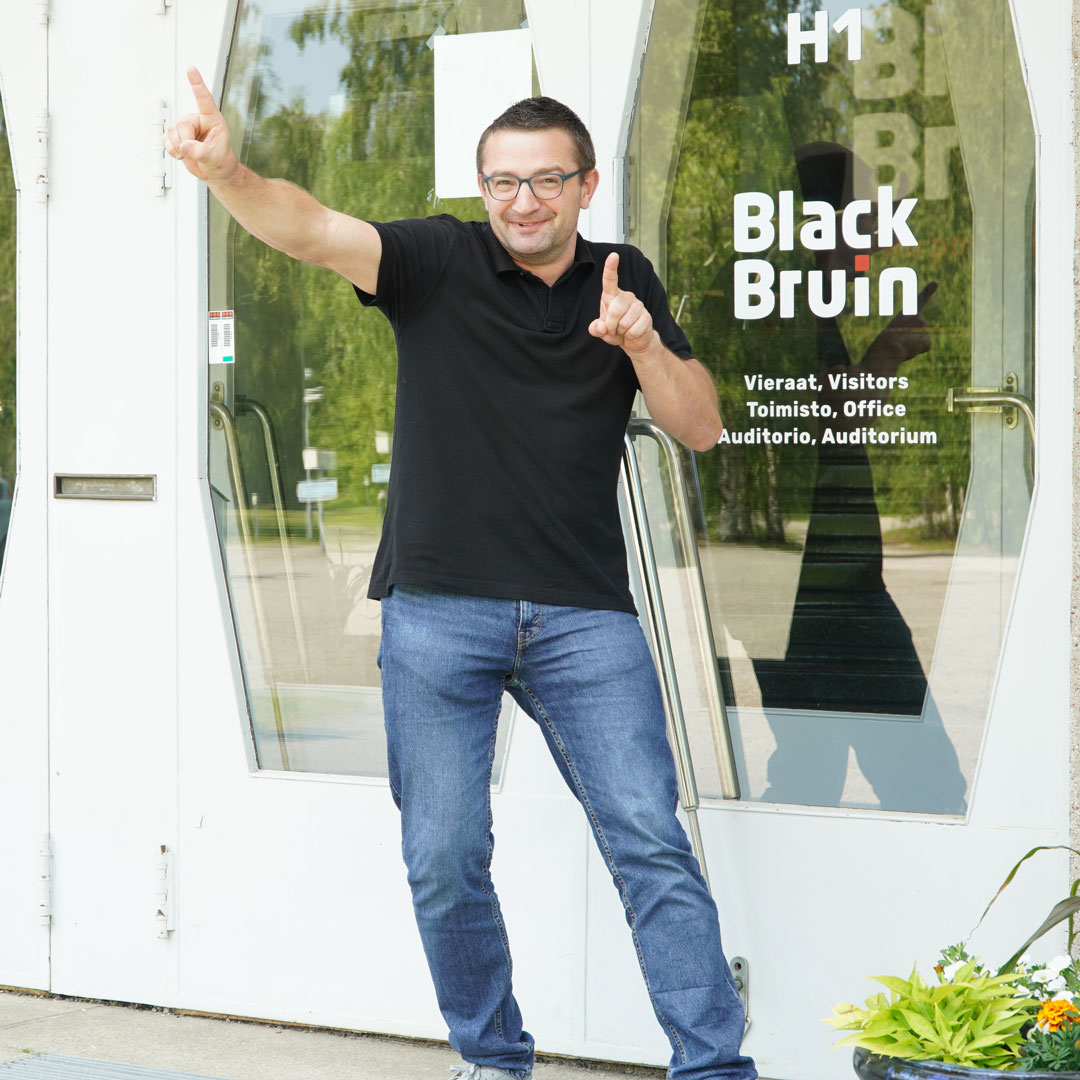 "In my previous job, I was responsible for the sales of planetary gearboxes for industrial and mobile applications. I built strong partnerships with clients and suppliers, emphasizing handshake quality. I intend to apply this approach in my role at Black Bruin, focusing initially on industrial applications in the Austrian market," Norbert says.
Finland and sauna, naturally
Finland as a country is still new area for Norbert, although he is familiar with its reputation for producing high-quality products. "Finland has a well-established reputation worldwide for its industrial products. The Finnish manufacturing sector is renowned for its reliability and consistent quality," Norbert asserts. Beyond his professional aspirations, Norbert likes wintertime activities such as skiing, snowboarding, and also embracing the Finnish tradition of sauna. In summer, he enjoys working in his garden and travelling with his family. "Our two boys, who sometimes feel as if they were four children, are surely keeping me active," laughs Norbert.
You can reach Norbert at norbert.langthallner@blackbruin.com or +43 664 538 6634. View all Black Bruin contacts.
Can we help you with something?
See our contact details.
See also
Mr. Mattias Klasmann started as Area Sales Director DACH, on November 1st.
Most of us agree that technology is here to stay, no going back to the time without it. To save and restore the environment, more efficient and reliable technology is essential. As a 60-year-old innovation, Black Bruin hydraulic motors have indeed endured and are proud to be sustainable in the truest sense of the word.
After a highly distinguished career of 23 years serving the same company, Supply Chain Manager Raimo Piippa will retire at the end of October.