Agriculture
French contractor keeps moving with hydraulic driven Gyrax agricultural trailers
SARL Berger uses Claas tractors and a hydraulic driven Gyrax trailer for tasks such as silage harvesting. Conditions can often be wet, making it easy to get stuck in the mud without hydraulic drive.
French tractor contractor Cyril Berger has discovered the benefits of the hydraulic driven Gyrax BMXXXL 240 trailer in his agricultural contracting business. Tractor and trailer no longer get stuck either in wet conditions, and work on the whole is more efficient.
Cyril Berger runs an agricultural contracting business and also has his own farm in the village of Saint-Clair in the Poitou region of western France. The region is not especially hilly, but it is often beaten by heavy rains coming from the nearby Atlantic Ocean.
"I don't need a driven trailer because of steep hills, but because of the often wet ground," says Berger.
His company SARL Berger has a fleet of equipment that includes a 160 kW Claas Axion 840, Eschlböck Biber woodchippers, three-axle Gyrax trailers, self-propelled forage harvesters, combine harvesters and other tractor implements, such as sprayers, balers and seed drills.
"I use the trailer's hydraulic drive when necessary. One great asset of the hydraulic drive system is that it does not hinder normal working when not needed. You can drive the same speed on the road, and the driven axle has the same compact design as the two other Monroc axles on the trailer," Berger explains.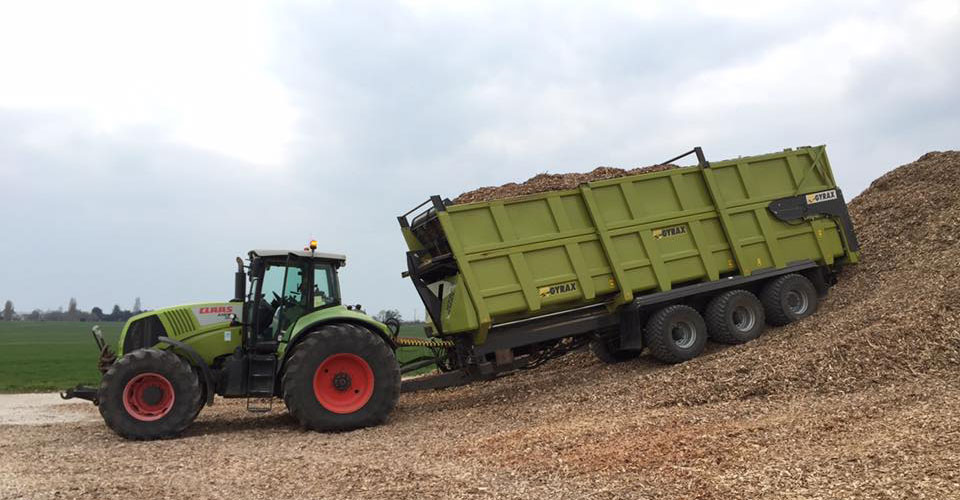 Hydraulic drive means no longer getting stuck in the mud
Cyril Berger purchased the hydraulic driven Gyrax trailer in 2015 and now has three seasons of experience using it. The trailer has a capacity of 30 cubic meters, which can be increased to 50 cubic meters when transporting light material. The trailer is ideal for transporting crops, silage, dry manure and woodchips. One of the trailer's three Monroc axles is equipped with hydraulic drive manufactured by Black Bruin.
"With the hydraulic driven trailer, I no longer get stuck during harvesting or other tractor tasks like I did with previous trailers. The hydraulic driven trailer can also work in more difficult conditions, which increases efficiency. I think hydraulic drive would be great for harvesting machinery too in the future," says Berger.
SARL Berger runs an agricultural contracting business and also has his own farm in the village of Saint-Clair in the Poitou region of western France.
Can we help you with something?
See our contact details.
See also
German axle manufacturer BPW contacted Finnish motor manufacturer Black Bruin during the agricultural technology trade fair Agritechnica 2015. The goal was set very soon: to launch hydraulically driven BPW axles during the next Agritechnica, which was scheduled for 2017.
Steep mountains, lots of snow, narrow streets and soft terrains. A tractor equipped with a front loader and driven trailer is enough to replace the normal trucks, loaders and dumpers.
BMF is the highly successful forest trailer brand of Estonian company OÜ Lisako, which annually produces approximately 1 000 trailers with cranes for forestry use. The company aims to increase the share of larger and more high-end trailers every year. And so far, they are well on their way to doing just that - with some help from Black Bruin.