Black Bruin's American organization strengthened with true hands-on experience: Welcome Jon Beck
With over 10 years' experience in hydraulics and working as an auto mechanic before that, new North American Sales Manager Jon Beck is a true asset for Black Bruin and its customers. His choice of profession became very clear during his studies in manufacturing engineering. "In the beginning we took a lot of classes: electronics, welding, machining, plastics… Hydraulics was the most interesting for me. I think it just appealed to me how the theory and formulae work and how it was proven that the components worked. It kind of clicked for me and made sense," Jon explains.
Not just a face in the crowd
Jon's job in Black Bruin is a mix of supporting the current sales partners, who have been very successful in the past, and also offering service to jointly selected OEMs as the component manufacturer's direct representative. And he is definitely the right man for the job.
Jon started working in hydraulics as a machine engineer, developing off-highway equipment, did that for 5 years, learned a lot about how equipment is designed, manufactured and assembled. After that he transitioned into a technical sales role and has not looked back since. No doubt that he is following his passion to make a difference with powerful hydraulics.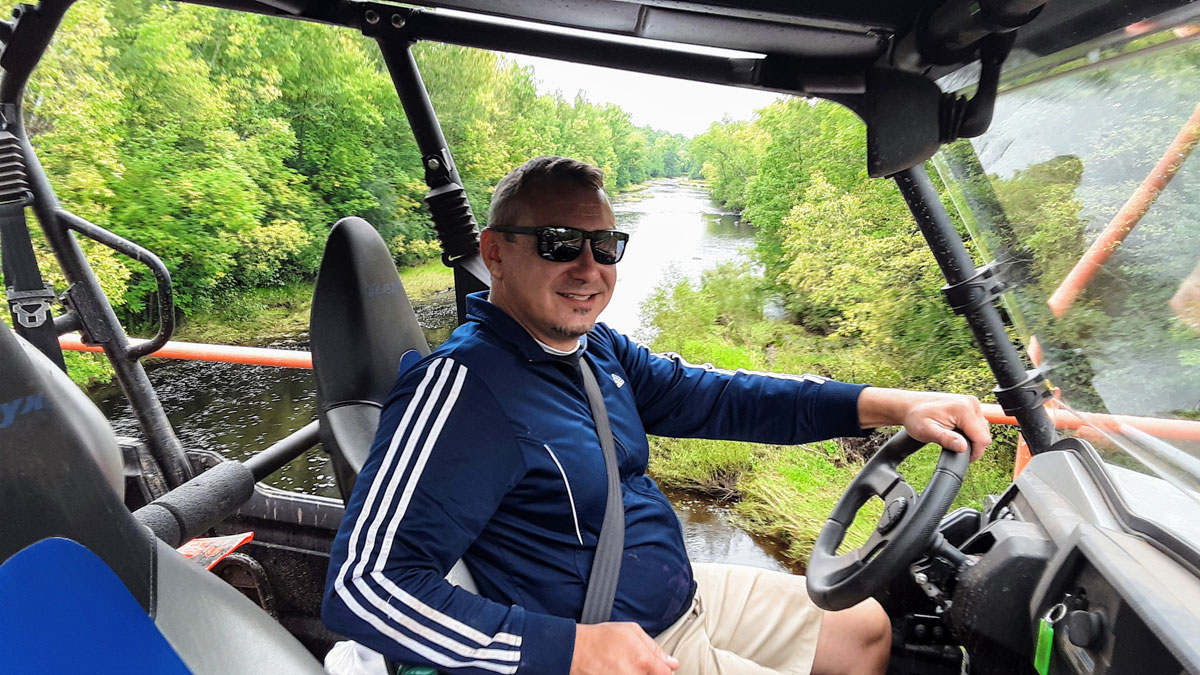 Agile strength
Jon and Black Bruin now found each other the second time as Jon had become familiar with Black Bruin products already a few years back working for their distributor in North America.  He has maintained relationships over the years. "It is a product I have a lot of respect for, and there's a lot of opportunities for its innovative design," Jon says determinedly. "The motors and rotators are like the brand name itself, they all resonate strength."
One thing that makes Black Bruin strong, Jon says, is that being a more medium size company, they can react better and faster, adapt to the market and customer demands better than some giant companies with a vast range of different products. "And for me as the company's local representative, it's really about serving up personal customer experiences and building authentic relationships," says Jon. "That's the most rewarding part for me."
Moving industrial customers with the S-series rotating shaft motors
In the vast and fragmented North American market, different regions clearly have different strengths and needs. Jon's job is to make Black Bruin's offering even better known as widely as possible and also to offer service when needed. He has a firm faith in his offering: "Black Bruin rotators have a competitive edge in the market with their piston motor design, superior durability and longevity, and the greater torque capacity."
Jon sees great potential for Black Bruin in North America in the industrial market segment with some of the newer products Black Bruin has been developing, especially the S-series direct drive hydraulic motors. "The S-series motors offer more than enough power for basically any industrial application," explains Jon and continues: "Rated up to 18900 ccm and 500 kW, the S-series motors are our specific response to the various needs in industrial applications to produce continuous high power efficiently without gears. S-series is available with several output shafts, including the useful through-hole version. There is just no power like it."
'Cause it's his life
Jon lives in northern Minnesota, the nearest big town being Duluth, which is a major port city. Duluth was originally a big timber city, but then iron ore was found, and a port was needed to ship iron ore pellets and steel products all over. Many of the steel mills are now closed, but the port is still significant, although other industries like medical, aviation and manufacturing have superseded the steel industry as an employer.
Jon has a young family, 2 daughters aged 1 and 4, so his main "hobby" is raising them alongside his wife Katie, and chasing them around. The family spends as much time as they can outside whenever time permits. They live a little bit out in the country, have free space and are near a river and a forest to go hiking, camping and four-wheeling. "I have always snowboarded in the winter, although I have transitioned into teaching the little ones how to do it, so for the last 2 years I have not left the "bunny hill", Jon tells. "I have shown the 4-year-old the ropes and she can now go up and down by herself."
Welcome Jon!
You can reach Jon at: +1 (218) 380-2637 or jon.beck@blackbruin.com
Can we help you with something?
See our contact details.
See also
After a highly distinguished career of 23 years serving the same company, Supply Chain Manager Raimo Piippa will retire at the end of October.
Mr. Mattias Klasmann started as Area Sales Director DACH, on November 1st.
Most of us agree that technology is here to stay, no going back to the time without it. To save and restore the environment, more efficient and reliable technology is essential. As a 60-year-old innovation, Black Bruin hydraulic motors have indeed endured and are proud to be sustainable in the truest sense of the word.