Mining and material handling
Axiom and Black Bruin in South Africa: Fighting back with a strong culture
Axiom Hydraulics and Black Bruin have been working together since the late 1990's, serving southern Africa's fluid power, mining, industrial, agriculture and marine industries. "When you walk into an Axiom office, you have at your disposal the same capable and motivated design team, regardless of how big or small your business may be," Engineer Eugene Tondolo describes Axiom's service philosophy. The common service attitude is something which has proven to be a valuable asset to both companies.
Based in Johannesburg, central South Africa, Axiom Hydraulics was established in 1963 and co-operation with Black Bruin has been going on since the late 1990's. The company's location at the heart of the mining area of South Africa has meant that historically, its main focus has been specifically on the mining industry. But there's more to it, something perhaps for everybody to learn.
Covering all of South Africa
Axiom Hydraulics also works with other industries, but the lion's share of work in South Africa and Johannesburg is dedicated to serving mining companies and their partners. "We have been supporting the mining industry in South Africa for over 50 years. That being said, Axiom supports a lot of auxiliary type of businesses, too, which do a lot of industrial design and industrial machine development for businesses that, although not directly in the mines, still serve the mining industry," says Engineer Eugene Tondolo.
Axiom has a sister company in Cape Town that specializes in marine type applications and a company in Durban, these two companies support the industries in these two major port cities. We are well represented in South Africa. Although we do not always get directly involved with the projects of the coastal regions – because they have their own design people – we do supply equipment from our offices in Johannesburg," Eugene Tondolo explains.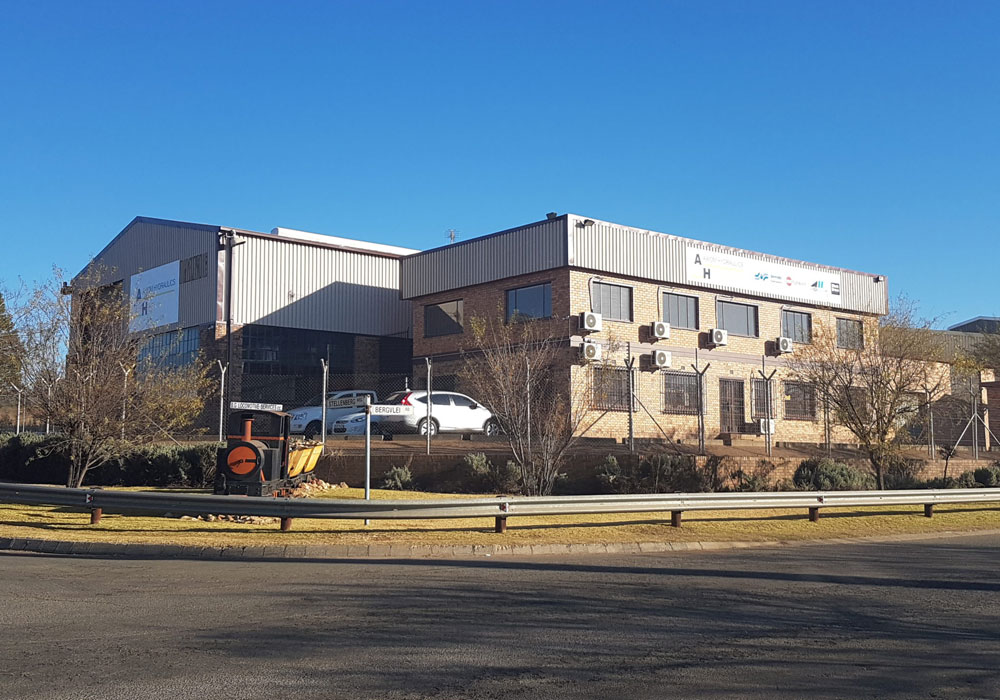 A strong culture of openness
Axiom is a special company, very open to everybody. "It doesn't matter if you are a farmer with just one tractor, and you want to build a little system that you are going to implement for a specific type of application, or if you are one of the bigger regional equipment manufacturers or OEMs. When you walk into an Axiom office, you have at your disposal the same capable and motivated design team, regardless of how big or small your business may be. It has proven to be such an asset to Axiom," Eugene describes Axiom's service philosophy and continues: "If you look at some of our bigger competitors, we know that for smaller needs to get hold of a good designer, it is almost impossible."
In Axiom, they take great pride of their culture of approachability and accessibility and see it as one of their biggest assets and advantages. "Anyone can walk into Axiom at any time of the day, go upstairs, have a cup of coffee and get to talk to somebody who will assist him with a design." Eugene continues proudly. "We spend a lot of time with small people. From the company point of view it may not always be the most lucrative business idea, but with respect to design capability, it definitely improves our ability to design systems and have an insight into various systems. We are involved in design from very small machines to extremely large machines and from small quantities to big quantities." That clearly puts Axiom far ahead of many other companies.
Big stocks an efficient vaccine
In the current ethos of just-in-time supply and very low stockholding by hydraulic companies and OEMs, Axiom has gone completely the opposite way. Over the last several years they have increased their stock significantly and currently keep one of the biggest stocks of this particular product range in the world.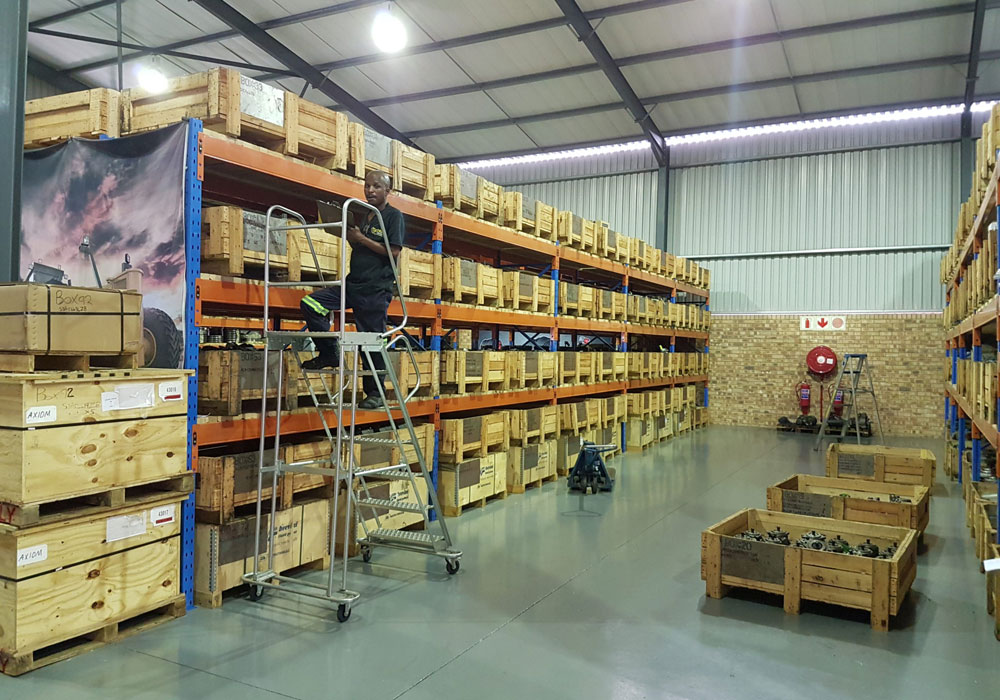 Eugene explains: "We can manufacture a manifold of controlled systems that vary from 1 l/m to 1100 l/m within a few weeks. We can deliver full transmissions within the same period of time, if we need to supply – pumps, motors, circuitry and the electronics. There is little competition." During the whole COVID-19 saga, this has been Axiom's strength. They have managed to continue operating, maintained their production and ability to supply their OEMs. They have had everything in stock they have needed in order to produce. Although Axiom has much higher stock levels than any accountant would recommend, it has made them profitable and by and large the COVID storm has done very little damage to them.
What is the meaning of a Black Bruin motor for the system?
The Black Bruin motor means to Axiom that they can turn anything that needs turning. Eugene Tondolo explains: "We have implemented Black Bruin motors in places where I don´t think even the Black Bruin guys thought was possible. Black Bruin motors are one of the most important products in our portfolio. It is incredibly versatile and genuinely bullet proof." The Black Bruin motor has proven to be an invaluable piece of equipment for Axiom and its clients. "Wherever we have installed Black Bruin motors, we have not had a problem with the quality of the product. It has proven to be a fantastic product," Eugene enthuses.
Eugene says that Axiom has used Black Bruin motors on big salt harvesting machines to drive the cutter heads and in big conveyor belts to drive conveyor systems. Currently they are busy installing the S-series motor in a 250-ton copper mill, where it rotates the copper furnace. "We use these motors in applications that are far beyond the normal conception of where Black Bruins would be used," explains Eugene Tondolo.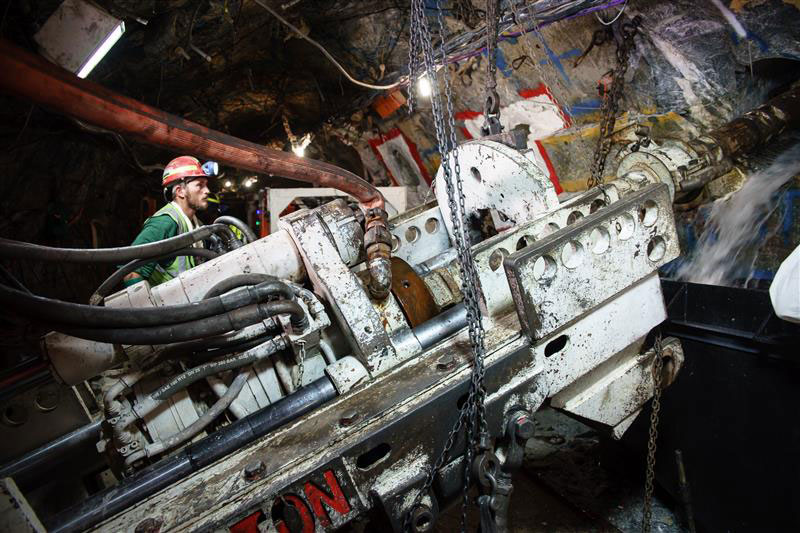 Axiom has found the S-series motors and the BBC-series motors very helpful in some applications where historically gearbox shafts would have been used. Black Bruin motors enable Axiom to turn and drive anything that needs to be turned or driven, with high torque and very good control, stability and versatility regarding how they want to design it.
When you walk into an Axiom office, you have at your disposal the same capable and motivated design team, regardless of how big or small your business may be.

Eugene Tondolo
The serviceability needed in South African mines
Eugene says that if a system is well developed and designed, the Black Bruin motor is a highly reliable piece of equipment. If there are failures in Black Bruin motors, these are usually very minor and usually the damage is due to mishandling. In the extremely severe mining environment, the care taken of equipment should be even higher than normal, and yet in many cases other needs just tend to be prioritized. The fact that Black Bruin motors enjoy the reputation they have earned for reliability within South Africa and Africa at large, is a good testament to the excellent product.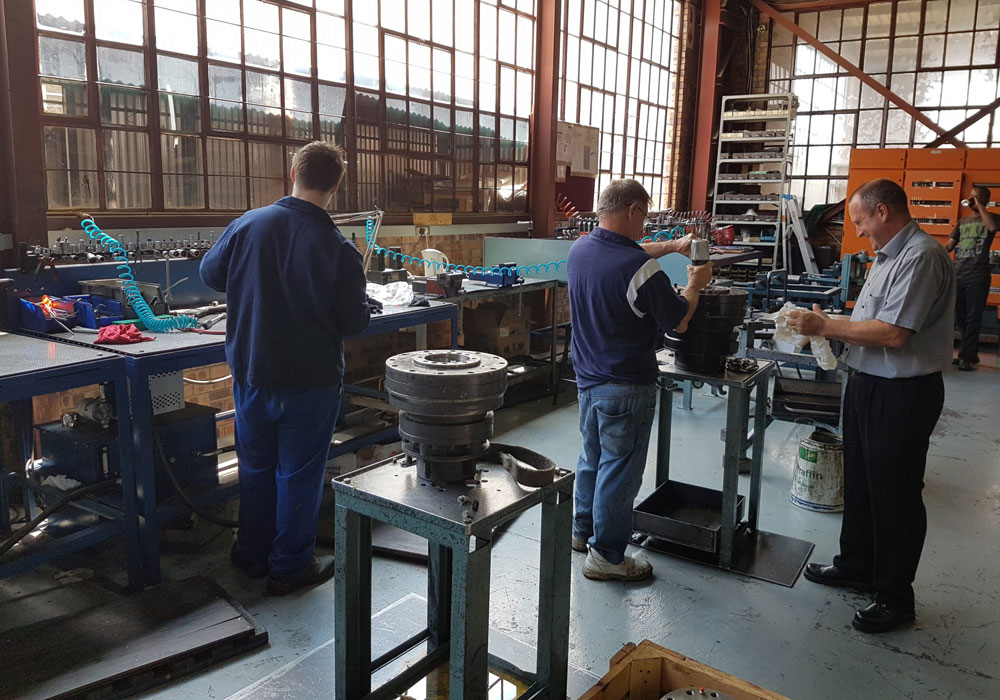 Rising above the general market situation with time-honoured values
It is more than a recession in South Africa. You could even say it is a catastrophic depression. GDP has dropped an unprecedented 51%, more than during the Second World War. But Axiom have scarcely noticed it; they are actually busier with design work due to their ability to react quickly and that big stock of theirs – Black Bruin motors, pumps and valves etc. Axiom has been able to assist OEMs when no one else could. Where some other suppliers' delivery times have risen to 15 weeks, Axiom has been able to deliver the quantities the clients want in 2 weeks, and so to reap the benefits of their avowed company policy.
"Axiom has always believed that the ability to support our customers comes first and foremost, and to be able to do that properly, keeping a big stock, technical ability, technical support and generally being a family-feel type of business are key," says Eugene Tondolo confidently.
Eugene the triathlete
Eugene has several hobbies. "Too many to afford, in my wife's opinion," he laughs. He competes in triathlons and spends quite a lot of time training one of the disciplines, swimming, cycling, and running. Most of the competition events are at the coast, Port Elizabeth for example, where a big Ironman event is held every year, one in which Eugene has participated four times. He is also an avid firearm enthusiast and his other favourite pastime activities are hunting and shooting.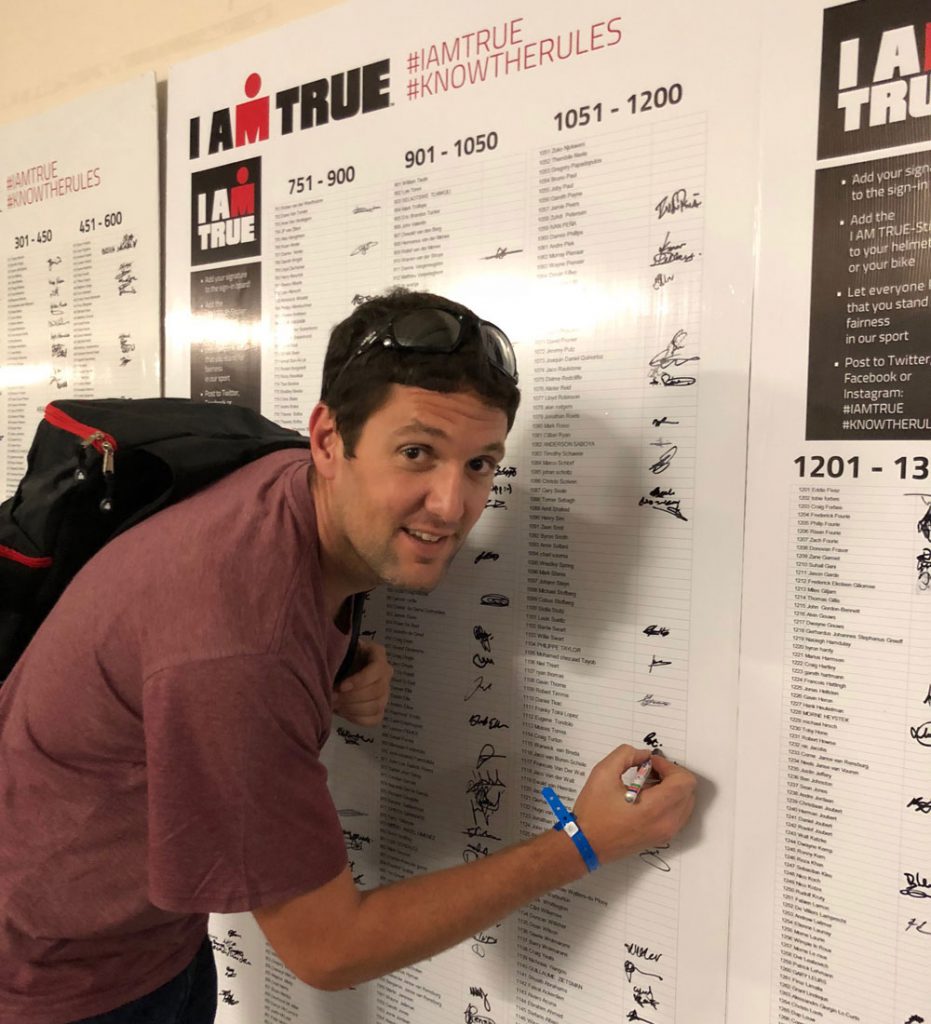 Established in 1959, Axiom Hydraulics is one of South Africa's oldest hydraulic companies, specialising in the design, supply, repair, reconditioning and servicing of a comprehensive range of hydraulic equipment. Our large stockholding of the world's leading hydraulic brands reduces lead and delivery times for southern Africa's fluid power industry. With state-of-the-art production, design and testing capabilities at our 5 500 m2 Johannesburg-based facility, we deliver intelligent solutions to our customers, every day.
Can we help you with something?
See our contact details.
See also
In gratitude for your hard work and commitment from 2000 to 2021. HydroSystem's Arto Haataja deservedly receives Black Bruin's Golden Distributor Award.
"With our own product ranges combined with Black Bruin motors, we can offer a complete hydraulic system for certain applications. The opportunities in South East Asia for Black Bruin are huge and completely untapped."
North American Hydraulics has been Black Bruin's trusted partner for practically 40 years. Amidst hurricanes and viruses, one thing has always been and will be vital for both: stay focused on the demanding customer.