Agriculture
GØMA for slurry, BPW and Black Bruin for wheel drive systems – a true competitive advantage for Hans Hvenemose
For Hans Hvenemose, a slurry contractor from Fyn, Denmark, the benefit of the BPW AGRO Drive axle with Black Bruin hydraulic motors is that he has more power, so he can drive where others cannot and do better quality work in all conditions.
Hans Hvenemose works as a slurry contractor in Fyn, the island between Jutland and Själland, which is known as Denmark´s green garden. The landscape around Fyn has quite steep hills and is not easy to navigate, even in dry conditions.
When Hans purchased his GØMA slurry tanker two years ago, he did not know that his machine had a BPW AGRO Drive axle with Black Bruin wheel drive. He was simply confident that GØMA makes good products so he felt assured of a really good wheel drive system. He knew he could trust the company and their designs. And GØMA knew they could trust Black Bruin motors.
This is not his first wheel drive system, but Hans finds his new GØMA slurry tanker with BPW AGRO Drive better than the previous ones. "It has more power in it," he says proudly.
The wheel drive advantage
Hans has two tanks, with a capacity of 25 m3 and 25,000 litres. Both tanks now have the BPW AGRO Drive and Black Bruin wheel drive system. With these, he has the capacity to go up hills that were previously impossible. "This means a bigger capacity for the whole year, which is so important," Hans explains.
For Hans Hvenemose, the wheel drive system offers a big advantage over competitors. He can do a better job because his solution leaves no traction marks on the fields. "Some customers absolutely insist on the use of the wheel drive system because it will do better quality work," Hans says. "And in wet conditions, it is an even bigger advantage every time," adds GØMA's Sales Manager Karsten Kammer. And he should know, having worked for the company for 32 years. Karsten puts the Black Bruin advantage in a nutshell:
The meaning of the Black Bruin drive axle really is that you have more power, so you can drive where others cannot and do better quality work in all conditions. So you have a machine that works better and for longer every day.

Karsten Kammer, Sales Manager GØMA
The BPW AGRO Drive axle with hydraulic radial piston motors from Black Bruin features the freewheeling function, which Hans uses to drive his tanker on roads between fields, but also on the field when driving faster. The drive axles are really solid. Hans has now been using the wheel drive system for two seasons. No breakages and no need for service.
Seasonal work
Hans works long hours and does all kinds of work as a contractor, including baling hay. The season for slurry driving normally lasts 7-8 months, from 1 February to 1 October, in some areas even until 1 November. In Fyn, the season starts a little bit later, on 1 March, because before that the soil is just too wet. In between Hans tunes up the machines for the next season, making repairs. He may even have some holiday, and then he likes to go skiing.
GØMA – the Danish word for slurry machines, literally
The company GØMA was founded in 1975 as a specialist dealer in equipment for handling manure, slurry and sludge. They started their own slurry tank production in 2017. The company name literally means "slurry machines" in English.
So how did GØMA decide to start using BPW AGRO Drive axles powered by Black Bruin hydraulic motors? "We had been working with slurry equipment for so many years already, so we knew the business and knew that BPW and Black Bruin make great products," explains Mads Nielsen, GØMA's Head of Purchase Department, who has worked for the company for 19 years. "When the opportunity came up to use BPW Agro Drive with integrated wheel drive, the GØMA designers were delighted. They knew Black Bruin motors and they knew BPW, so the combination of these was really good news," Mads continues.
From the service point of view, too, this makes things a lot simpler. The wheel drive system uses the same brake shoes as all the other BPW axles that GØMA uses, including wheel bolts and all important smaller parts – all the same type. Encouraged by the excellent feedback, GØMA is now planning to expand its portfolio and use of wheel motors to other areas as well.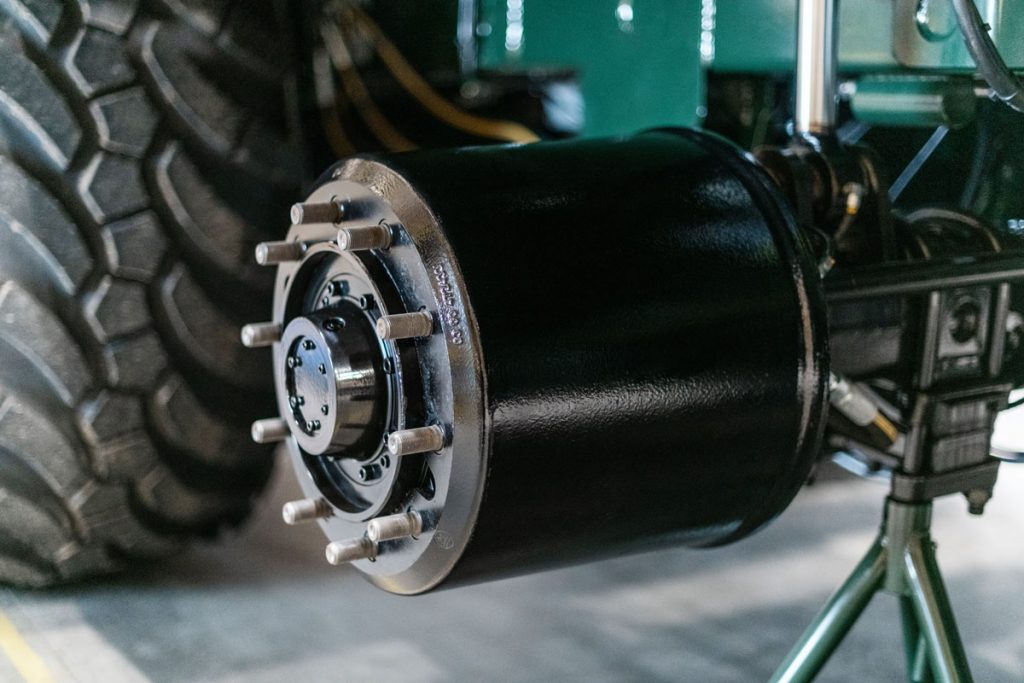 Servicing done off season
Contractors hate breakdowns. As slurry tankers are driven quite heavily, basically day and night during the season, it is absolutely critical that they are in top operating condition and that the oil is clean. It is a lot cheaper to do maintenance in wintertime rather than suffer breakdowns during the season and have the tank out of commission for a whole day or even two. That would mean a significant financial loss. The machines are therefore overhauled and repaired off season.
GØMA has several service cars in the winter months in Denmark and in Sweden. And this year their service road show is also going to Finland for 2-3 weeks. "Oil temperatures are surveyed, wheel hubs taken down to check the bearings and the brake shoes as well – that is more or less what needs doing," Karsten Kammer explains the service routine and notes that "the machines can also be repaired and maintained by the customers themselves".

Gøma was founded in 1975 as a special dealer of equipment to manure, slurry and sludge. Today Gøma is a top modern factory based in Viborg- Denmark and with branches in Halmstad and Gränna in Sweden. On Friday 10 September, 2021, Samson Group A/S acquired 100% of the shares in Gøma A/S.
Can we help you with something?
See our contact details.
See also
German axle manufacturer BPW contacted Finnish motor manufacturer Black Bruin during the agricultural technology trade fair Agritechnica 2015. The goal was set very soon: to launch hydraulically driven BPW axles during the next Agritechnica, which was scheduled for 2017.
Paul Forrer started to install Black Bruin motors in 2001 in small projects. Switzerland has mountainous areas, which is where the Black Bruin difference really matters.
"With our own product ranges combined with Black Bruin motors, we can offer a complete hydraulic system for certain applications. The opportunities in South East Asia for Black Bruin are huge and completely untapped."