Agriculture
No hill too high for Göweil's baling customers
Baling and wrapping technology specialist Göweil has its design, development and production facilities in Kirchschlag, 20 km north of Linz in Upper Austria. This is one of the reasons why they are specialists in agricultural machines for mountainous terrain. Göweil's customers work on steep and rugged terrain and sometimes need help to get those machines up the mountain – and safely down again.
Several years ago, Design Engineer Bernhard Pilsl took a look at the market to find a solution to help customers navigate this difficult terrain and found Paul Forrer in Switzerland. He soon saw what they had to offer, a great drive-axle system – with powerful Black Bruin hydraulic motors. Just what Göweil's customers needed.
A true success story
Göweil's success is reflected in its constant growth. Sales Manager Reinhard Leimhofer has worked for Göweil for 28 years. When he started, there were only 10 people in the workshop, but now the company is much bigger, with over 230 employees. The key market for Göweil is Europe, with Austria, of course, being the home market. The main export countries are France, Germany, Switzerland, Belgium, Netherlands and Sweden. However, the whole operation is global, extending all the way to Japan, China, USA and into South America.
There is no typical Göweil customer. At one end of the scale there may be a farmer with a small farm and a few cows, doing only 300 bales and at the other end there are contractors covering really large areas and doing 20,000 bales with one machine. Both deserve and get the same dedicated care and attention from the company.
Göweil's product range is quite extensive, too. The company specializes in all kinds of baling and wrapping technologies as well as bale handling and opening devices as their core business. Their strategy is to offer high-quality machines that are robust and durable. "Göweil wants to offer a good quality solution with high performance to meet the customers' needs," explains Reinhard Leimhofer.
Paul Forrer Drive System and Black Bruin wheel hub motors – a winning combination
There are sound reasons why Göweil uses the Paul Forrer driveline with the Black Bruin motor as its power source. Before they found the Paul Forrer & Black Bruin solution, the farmers' baling machines had only standard axles and wheels. There was no solution on the market to suit the hilly terrain in Switzerland and Austria. Many customers working on difficult terrain had some homemade solutions where they had upgraded the hydraulic motor themselves. "The Paul Forrer drive axle system makes it possible to work with a smaller tractor with balers and baler-wrapper combinations – and this in areas where they could not otherwise use such machines," Reinhard Leimhofer explains the uniqueness of the solution.
Bernhard Pilsl has had positive experience with the Black Bruin motors. "They are strong, have a very long life, and we can be sure that in the future there will be no problems with the motor. We have worked a long time with Paul Forrer and have seen that the motors in their driveline system are very robust and cause no problems. We are very happy with the Paul Forrer system."
Reinhard Leimhofer says that Black Bruin motors have a good reputation. "Customers in Europe know Black Bruin motors from forestry trailers. They know how hard it is to work in the forest and they trust that if it is a Black Bruin motor, then it would also be perfect for their machine. If it is a quality machine, then we should also use a quality motor. That is the motto."
An extended lifetime
"Göweil only offers the highest quality products which are extra reliable and have a very long lifetime. To ensure this, we use only high-quality components in our machines, like the Black Bruin motor," underlines Reinhard Leimhofer. It is also very important for Göweil to offer their customers excellent service and be available to answer any questions. This service – from meticulous machine installation to comprehensive field testing – is offered through an extensive dealer network and distributors.
Reinhard Leimhofer says that farmers and contractors often ask how long they can operate with a Göweil machine before it breaks down. His simple answer is that the Göweil fleet consists of thoroughly reliable machines, and that the first unit ever sold is still running.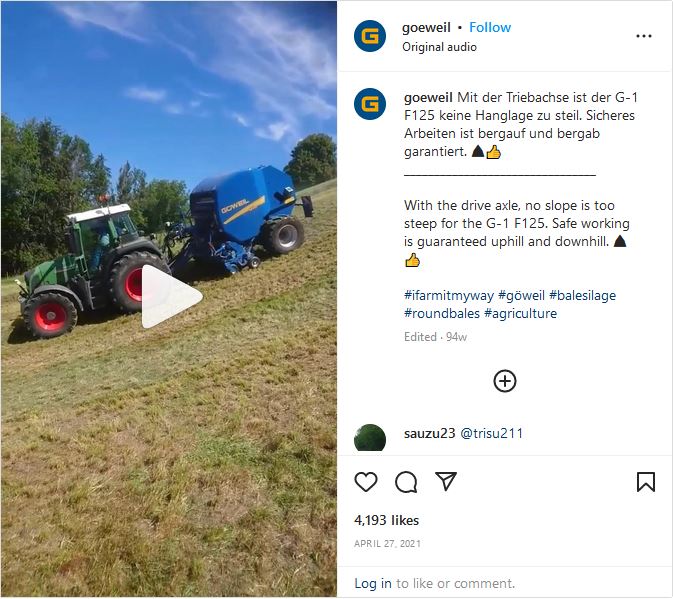 Another advantage of working with quality Göweil products is that they also offer greater security in the field. Reinhard explains: "When you work in hilly areas, it can sometimes get very dangerous when going downhill. Farmers working with Göweil & Paul Forrer & Black Bruin solutions have noticed that they can operate on hillsides using a smaller tractor, because the machine does most of the braking itself, and the tractor only needs to provide partial support. Sometime the tractor's brakes aren't used at all. This is a huge safety benefit." It is Paul Forrer´s trailer drive system – with the Black Bruin motor – that provides such safety. This system automatically applies the correct braking force to the trailer so the operator can concentrate on the important work – baling.
GÖWEIL has established itself worldwide as a specialist in the manufacturing of agricultural machinery and today it has also made a name for itself in the manufacturing of pressing and wrapping technology for industry.
Can we help you with something?
See our contact details.
See also
BMF is the highly successful forest trailer brand of Estonian company OÜ Lisako, which annually produces approximately 1 000 trailers with cranes for forestry use. The company aims to increase the share of larger and more high-end trailers every year. And so far, they are well on their way to doing just that - with some help from Black Bruin.
When a customer wants a Black Bruin motor, there's no need to worry about the rest. In addition to delivering the high-quality motor, BIBUS will also take care of everything else that is needed – the pumps, filters etc., BIBUS delivers them all.
Black Bruin helped SID to simplify the machine design by replacing a small motor and a planetary drive. The motor chosen was customized in order to meet SID technical standards and special requirements.